---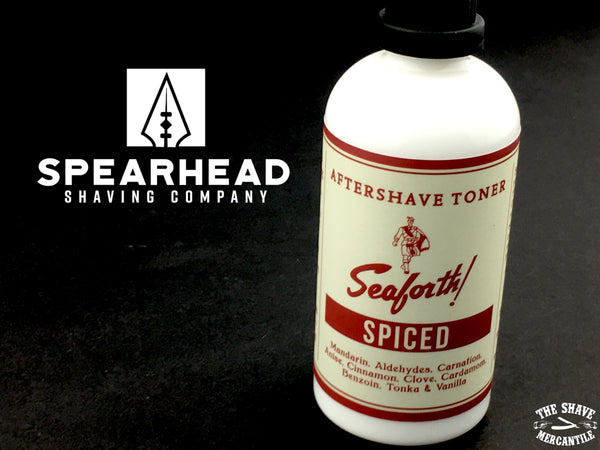 SPEARHEAD SHAVING COMPANY - SEAFORTH! SPICED AFTERSHAVE TONER
---
The scent for Seaforth! Spiced was developed by Shawn Maher of Chatillon Lux and Maher Olfactive.  Spiced is a classic and familiar scent structure, but with fresh life breathed into it. The opening feels new by using a more modern mandarin citrus and different aldehydes.  Meanwhile, the base underneath is familiar, with warm spices, creamy sweetness and a classic finish. Spiced is a new and inviting take on the classic spice scents of the mid-20th century.
Scent notes include: Mandarin, Aldehydes, Carnation, Anise, Cinnamon, Clove, Cardamom, Benzoin, Tonka, and Vanilla
Seaforth! Spiced Aftershave Toner is a lightweight splash, free from drying alcohol.  The witch hazel and aloe soothes and tones without feeling heavy or greasy.  Packaged in distinctive milk glass bottles, this aftershave is a refreshing way to enjoy the scent and vintage spirit of Seaforth! Spiced.
Ingredients: Hamamelis Virginiana (With Hazel) Extract, Purified Water, Aloe Barbadensis Leaf Juice, Polysorbate 20, Fragrance, Glycerin, Propylene Glycol (and) Diazolidinyl Urea (and) Iodopropynyl Butylcarbamate
Net Weight: 3.4oz
---
More from this collection